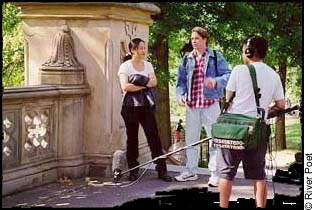 Morning Glory began as a full-length feature screenplay written by Mary T. Dinh in her junior year at the Tisch School of the Arts at NYU. The original concept was a story of friendship between a young street poet, William Eric Gordon, and a street hustler, Matt Phillips, with a love triangle involving a third character. Over the course of several rewrites, the story evolved into a tentative love relationship between William and Karinna, and the family dynamics of an eclectic group of homeless individuals.
"What interested me most about this story was the 'what-if' factor," the director explained. "Morning Glory was inspired from the question of 'what if' I found out one day that someone I really cared about had HIV or AIDS. How would that affect me and our relationship?" Mary also wanted to bring to light the issue of HIV patients who had contracted the virus through no fault of their own: betrayal of a loved one and blood transfusions. Although there has been a tremendous change in attitude about the HIV virus, there is still a great deal of fear and uncertainty. Morning Glory explores this issue and tests the true value of love and friendship.
In addition, the filmmaker wanted to show a different side of the homeless community. Through numerous personal experiences, Mary has observed and met homeless individuals who were proud, talented and hopeful. It is her goal that audiences will reconsider their assumptions and stereotypes on the homeless condition.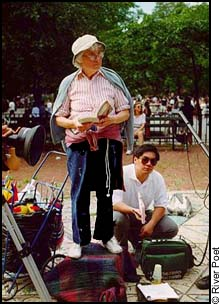 The casting process for the film was a long and tedious one that paid off in the end. Michael Winslow, who had auditioned with River Poet for a previous project, was quickly cast as William Eric Gordon. But the producers were concerned with the casting for Lucky and Karinna, two parts that required charismatic actors who could convincingly portray an older male character with a worldly and tragic soul and a free-spirited, street-wise young Asian woman.
On his second reading, Camden Toy nabbed the role of Lucky and shortly after, Sophia Morae was cast as Karinna Phillips.
The producers also had the good fortune of attracting lesser-known but well-experienced talents like David Wenzel (who did stand-in work for Brad Pitt), Greg Jackson (who has worked on numerous big budget features, including as a stand-in for Kevin Bacon), Marine Jahan (the dancer and body double for Jennifer Beals in Flashdance) and the young Rob London (who appeared in Stepmom starring Julia Roberts and Susan Sarandon).
Once the cast was set, there was one week of intensive rehearsals. Then shooting began.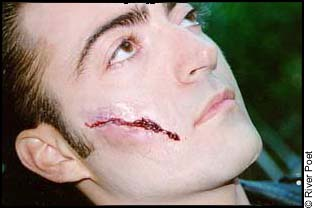 The shooting process was a long and draining experience that tested everyone's commitment to the project. Many cast and crew members had full-time jobs so the shoot had to be scheduled around weekends with only one full week of principle photography. To intensify matters, the project was an ambitious one. Shot at over 15 locations throughout New York City and Long Island, with a speaking cast of over 40 and a core crew of 6, the photography had to be completed in just a little over 20 days.
"When I had set out to shoot my first feature," Mary said, "I knew I had to put projects involving sweeping epic adventures and science-fiction stories on the shelf. Of all the film ideas I had at the time, Morning Glory was the least ambitious. But with each rewrite, the story grew. And as shooting progressed, more and more people commented on how incredibly ambitious it was for a first feature." Unlike many director's debut film, Morning Glory involved an ensemble cast, complicated stunts and fight choreography, special rain and car effects along with exploding firearms and make-up effects.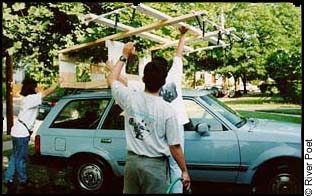 "We had to be very creative with the photography," said Theresa Dinh, the director of photography. "For example, with no money for automobile rigging and minimal for insurance, how can we have a tracking shot of Karinna sitting in the car returning to New York City?" What they came up with was a close up shot of a static car superimposed over a flipped tracking shot of trees. This created the illusion of the appropriate reflection in the windshield. When finalized and edited into the film, the shot played beautifully.